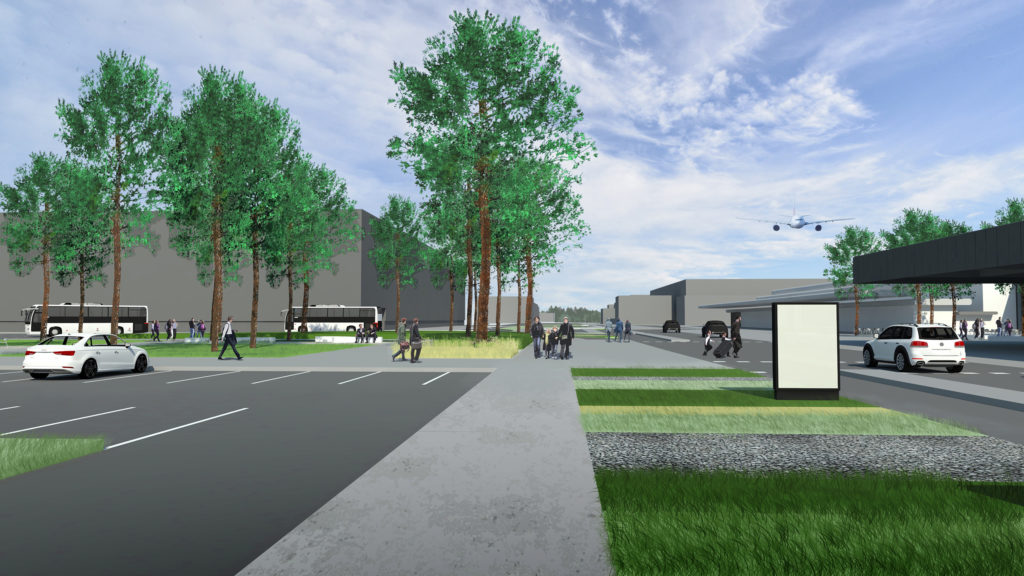 Airport
Landscape patchwork
How to design a space in front of a new terminal of the main Slovene airport so that it will be evident on first impression just what we want to show our guests? In addition to the large parking lot, bus station and several roads, the area is set aside for the entry park and entrance square. What should this park represent and how should it be designed?
Airports are extremely demanding transport and infrastructure systems, yet are also symbolically a gateway to each country or city. From time immemorial, the design and planning of airports has created surpluses in bold and high-end architecture.
That is why we decided on the simplest possible solution – an abstract depiction of the typical habitats of the surrounding landscape, marked by dense forests with red pine, ferns and vast fields of the cultural landscape. The fairly large area is designed as a patchwork of ambiences, abstract habitats in the form of lawns, meadows, ferns and red pine trees.
Project name: Fraport
Location: Brnik Airport
Client: Fraport
Area: 12,000 m²
Project: 2019
Execution: under construction
Bruto team: Matej Kučina, Tanja Košuta, Domen Rus, Nika Čufer
Architecture: Plan B