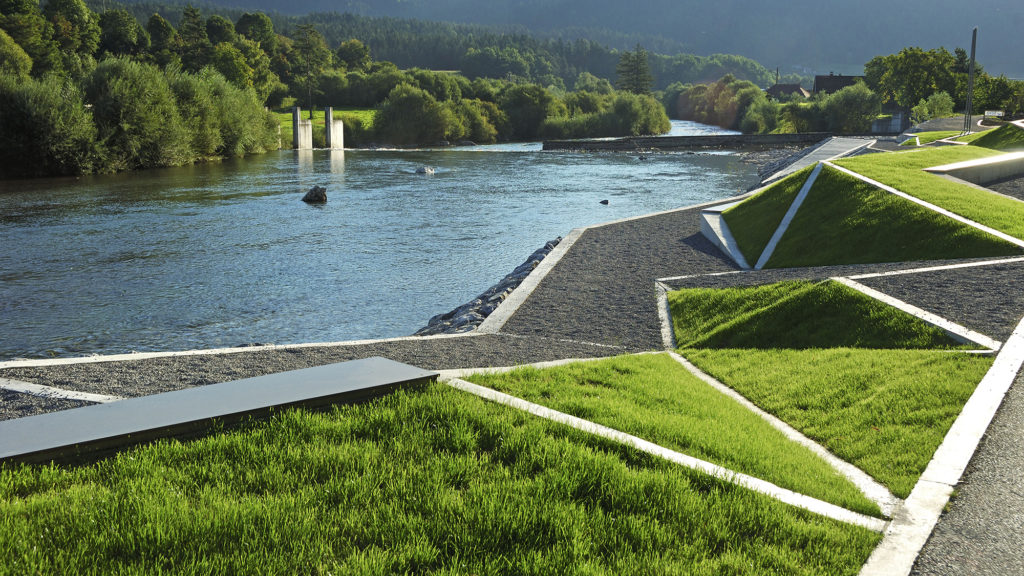 Sculpture
Public private partnership
The idea of a local entrepreneur to build a park and a memorial in Ljubno ob Savinji in honour of General Rudolf Maister, a great patriot and fighter for the Slovenian northern border, initially seemed unreal. In the end, it came to life on public, municipal land with the private capital of the same entrepreneur.
The complete confidence of the client and total freedom in park's concept and design have undoubtedly contributed to making this our most famous and published project.
It is a very abstract representation of the crest of the northern border, for which Maister's soldiers fought. The crest flows to the north into a flood-reinforced bank of the Savinja River, and to the south it is cut off and completed with a supporting wall, which serves as part of the memorial, with a composition of abstract soldiers led by General Maister on a horse, the work of academic sculptor Primož Pugelj.
The project combined three tasks: to set up a public park, to commemorate Rudolf Maister and the soldiers of the northern border, and at the same time to consolidate the riverbed of the torrential Savinja River.
Surprisingly, the arrangement of the park has contributed to traffic safety. Due to the blue illumination of the sculpture, as from afar it appears as the light on a police vehicle, which is why many drivers slow down in this area.
Project name: Maister Park
Location: Ljubno ob Savinji
Client: Association of fighters for Slovenia's northern border
Area: 2,000 m²
Project: 2005
Execution: 2007
Bruto team: Matej Kučina, Tanja Maljevac
Sculpture: Primož Pugelj, academic sculptor
Photo: Miran Kambič
Awards: Premio Torsanlorenzo International Prize, Italy 2008, Grand prix Award, Exhibition of Landscape Architecture Belgrade, Serbia 2007