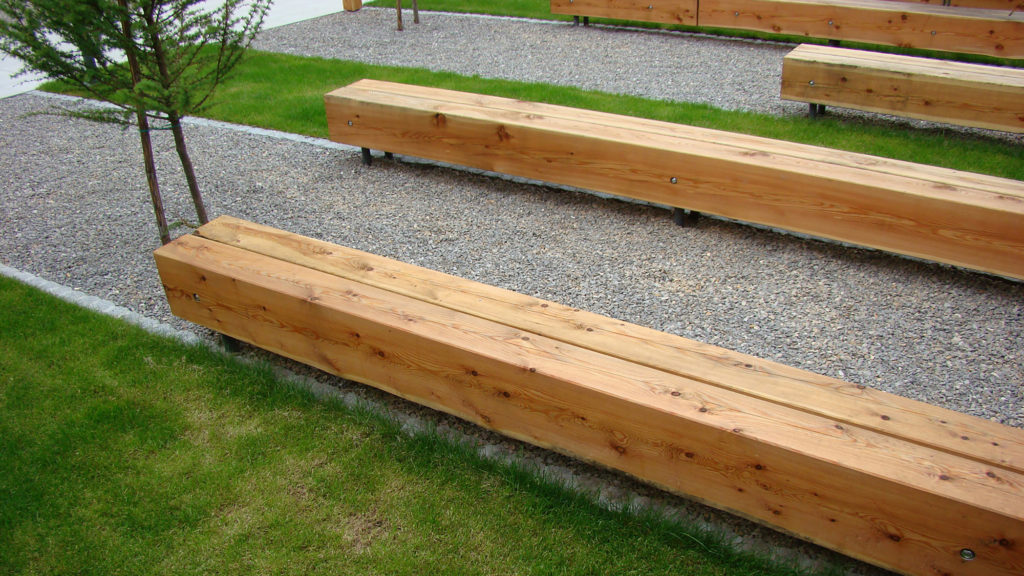 Larch
English tourists, hiking boots and beer cans
Did you know, that settlement called Bohinj doesn't actually exsist, despite the famous lake? The urban centre of Lake Bohinj is Ribčev Laz, a small village with only a few houses and hotels.
There is also a small shopping centre, whose landscape setting with the parking and a park was the subject of our assignment. The centre is a typical tourist amphibian and includes a shop, a restaurant, a post office and a tourist information centre. You could even say that this centre is actually the centre of the village.
Since Ribčev Laz and Lake Bohinj represent one of the most beautiful entrances to the Triglav National Park, we wanted to show the landscape of the Triglav National Park through a correct arrangement.
The park includes limestone boulders, pines, larch trees, as well as various benches and other urban equipment made from local larch. And English tourists in hiking boots sit on the benches in the park and drink beer from a can they just bought at the store. Exactly as we imagined.
Project name: TC Bohinj
Location: Bohinj
Client: TD Bohinj
Area: 3,400 m²
Project: 2008
Execution: 2010
Bruto team: Matej Kučina, Eva Prosen, Urban Švegl, Meta Božič
Photo: Matej Kučina