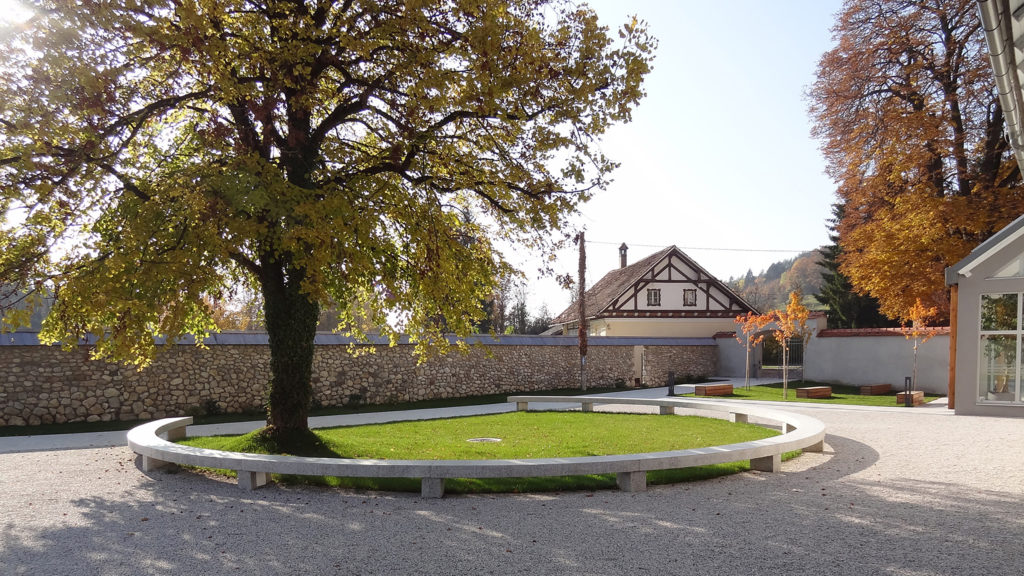 Courtyard
Castle hospitals
After World War II, it was usual to place psychiatric hospitals in medieval mansions, manors and castles, as such facilities were set in remote locations and had gardens that were used for occupational therapy for patients. Needless to say, these facilities are completely unsuitable for such function.
Begunje Psychiatric Hospital, housed in Katzenstein Castle, dating from the 14th century is a typical example. The castle complex is very impressive and, in addition to a fenced baroque park, orchards and cultivated fields, it also includes two pavilions by Plečnik, a cemetery for the victims of World War II designed by Ravnikar and many other service and economic facilities of the former estate. Most service and economic facilities were left empty and without use due to the new use of the building.
A few years ago, due to a reorganization of the hospital, the hospital's management moved to the former auxiliary facilities. For this purpose, we renovated the former service yard into an entry square and organized new internal parking. The commendable conclusion of this story is, that the reorganization and expansion of the hospital restores the functional use of many service and economic facilities that once served a very different purpose.
Project name: Hospital Begunje
Location: Begunje
Client: Psychiatric Hospital Begunje
Area: 4,200 m²
Project: 2009
Execution: 2011
Bruto team: Matej Kučina, Urban Švegl, Eva Prosen, Meta Božič, Barbara Gibičar
Architecture: Marko Smrekar st.
Photo: Matej Kučina