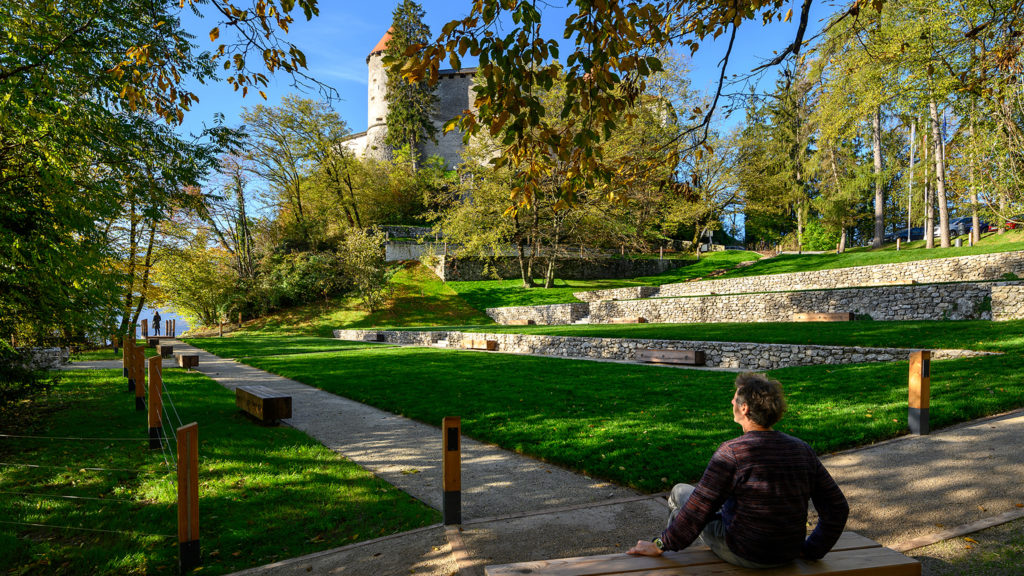 Castle Park
The lesson of human history
The park at Bled Castle has a very long history. Despite the rich history of the castle and the park itself, it is surprising that so little historical data testifies to its origin and function, much less its design. Indeed, only two documents can be mentioned from archival sources, namely the Franziscean Cadastre and the Reambulant Cadastre.
Both show the design at that time, each different and if we add the last image just before the renovation, we recognize three different layouts. Given the lack of relevant resources, it was a joint decision to start with the last design where the park was arranged in terraces. Allegedly, the site was probably archeologically very rich, but the findings of ongoing archaeological excavations surprised everyone.
In fact, during the renovation of the park, we witnessed a short lesson in human history, as the remains found date back to prehistoric times, Ancient History, the Middle Ages and the present day. The finds include primitive stone tools for cutting skin, some 7,000 years old, remains of settlements, children's graves, weapons, Roman coins and many other valuables. Despite the fact that Bled Castle was first mentioned in 1004, it is clear from these findings that the castle hill was inhabited thousands of years ago. The most interesting among the artifacts found, will be permanently displayed at a new Archaeology Museum, set to be build in near vicinity in the following years.
Due to the ongoing archaeological excavations, of course the classic conflict between builders and archaeologists flared up. The former missed their contractual deadline, while the latter felt threatened by constant harassment. Fortunately, we were able to convince the builders of the importance of excavation as discovering the hidden stories of the area, and in the end, they even helped archaeologists in their work. All's well that ends well.
Project name: Castle Park
Location: Bled
Client: Bled Culture Institute
Area: 2,400 m²
Project: 2019
Execution: 2019
Bruto team: Matej Kučina, Nika Čufer, Domen Rus, Tanja Košuta
Photo: Miran Kambič