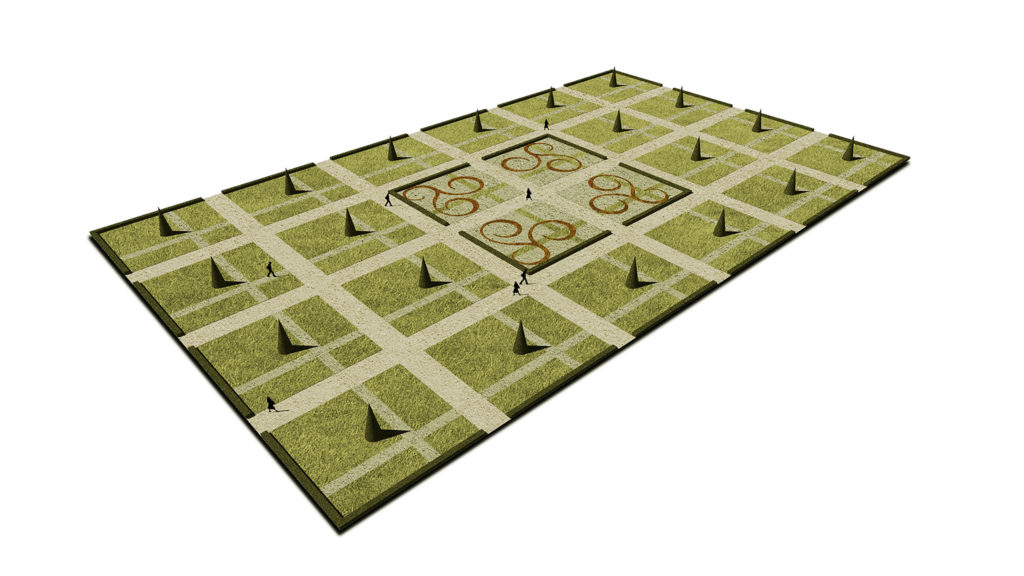 Parterre
Orlando
Orlando (1992 Sally Potter, Virginia Wolf), a wonderful film about eternal youth, a journey through the centuries, androgyny, love, and relationships. Just as the main character (played by Tilda Swinton) travels through the centuries and constantly changes gender, so is the scenery, the space and the landscape changing.
Actually, it is the park of the baroque mansion Blenheim that changes most dramatically throughout the film, from the typical baroque park, later arranged with huge cups made of boxwood and yew trees, to the modern one, where the shape of the park plants is replaced by geometrically shaped sheets made of white rubberized canvas in the style of the artist Christo.
Within the large park of the baroque Polskava mansion once a baroque parterre, was also organized, on which today (how meaningful) a football pitch is arranged. Since there is no significant historical information about the appearance of this baroque parterre, we decided to make a modern interpreted version of the baroque parterre, whose inspiration was found in the film Orlando.
Project name: Polskava Park
Location: Zgornja Polskava
Client: Institute of Culture Slovenska Bistrica
Area: 23,000 m²
Project: 2014
Execution: unrealized
Bruto team: Matej Kučina, Urban Švegl, Matej Delak