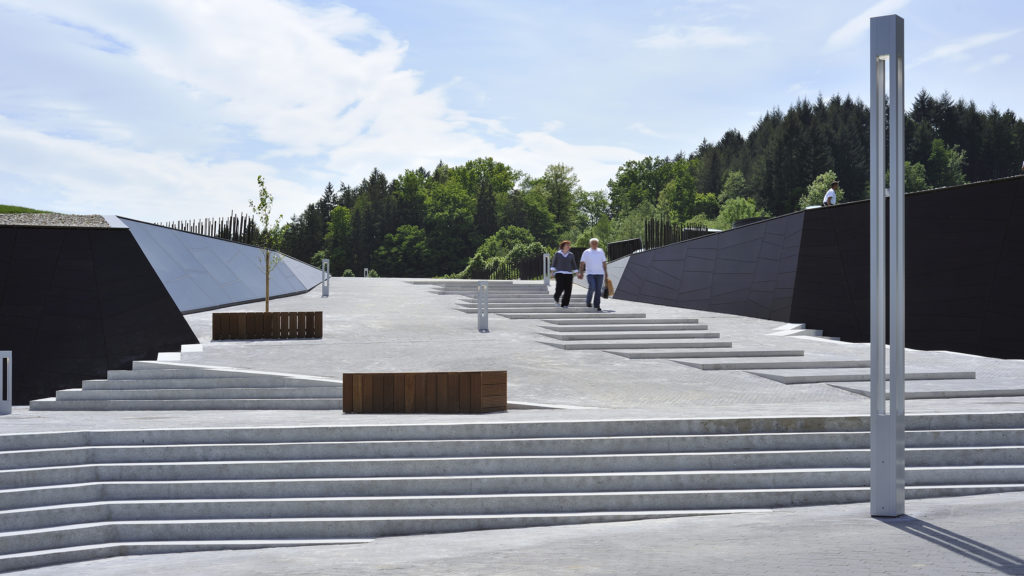 Roof Park
Hypersurface wellness
"Hypersurface is a reconsideration of often relationships existing in the environment. These binaries include: image/form, inside/outside, structure/ornament, ground/edifice and so forth. " (Stephen Perrella, Hypersurface Architecture)

The architectural design of the new wellness centre is one of the first examples of the current design poetics of the Enota architectural bureau. The design of the nearby Sotelia Hotel was still quite classic but with a vibrant roof, yet the design of the Orhidelia wellness centre was more uncompromising and at the same time highly intelligent.

Here the building is no longer a building and the roof is no longer a roof. The facility has dematerialized into an underground complex and the roof becomes a park, a public space. It is one of the first examples of the so-called Hypersurface Architecture in Slovenia. However, this was not a fashionable choice, mainly because of spatial needs.

The new wellness centre is located in the densely built-up area of the spa hotel complex Olimia. The huge facility is almost entirely built underground, so the whole area of the new complex is arranged as a rooftop green urban park. The vibrant building effectively divides the space, as it connects to the surrounding area of other hotels and swimming pool complexes through ramps, stairs and terraces.
Project name: Orhidelia
Location: Podčetrtek, Slovenija
Client: Terme Olimia d.d.
Area: 11,200 m²
Project: 2007
Execution: 2009
Bruto team: Matej Kučina, Urban Švegl, Eva Prosen, Tanja Maljevac
Architecture: Enota
Photo: Miran Kambič, Matej Kučina
Awards: Golden Pencil Award for public building, Slovene Chamber of Architecture and Spatial Planning 2009, Award, Exhibition of Landscape Architecture Belgrade, Serbia 2009