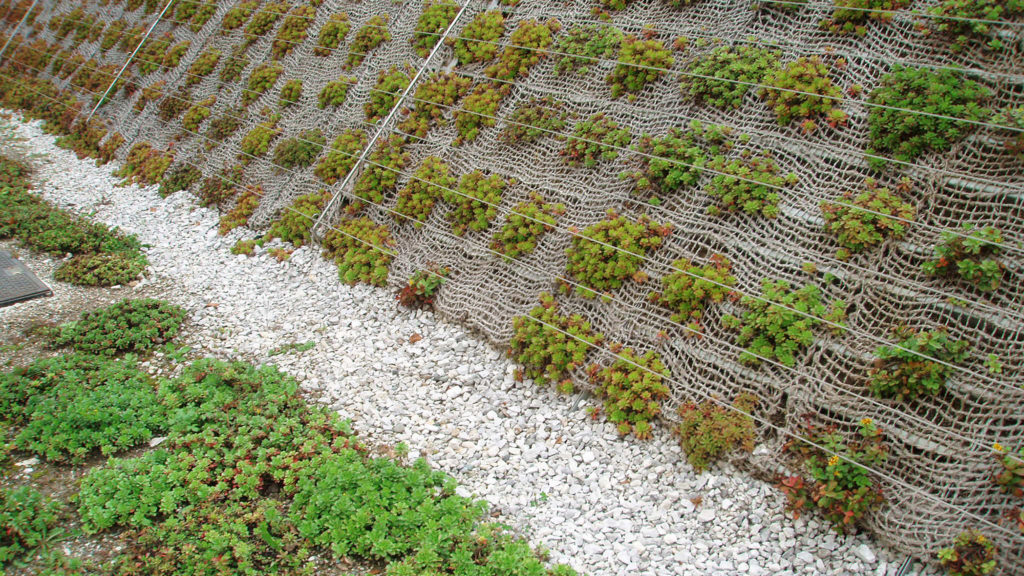 Green Roof
Roof lawn or roof under the lawn
The architectural design of the architects that made the new Podčetrtek hotel was a rather bold answer to the question of how to blend the building with the existing landscape defined by meadows and an existing forest in the simplest and most natural way. The idea for the roof of the hotel with several ridges sloping to the ground, should be completely green. In practice, this meant how to extend the surrounding meadows to a very steep roof with up to 67 ° inclination?
For this purpose, a special stainless steel, cassette system was developed so that the plant growth substrate could be maintained on such a slope. The composition of such a green roof is completed with a jute safety net, which encloses these cassettes on the upper side while allowing plants to grow.
The roof is planted with a special blend of perennials that vary depending on the slope of the roof surface. The south-west facing roof areas are green-yellow and the areas facing north-east are green-red.
The concept of the tectonically fractured structure is also followed by the concept of the arrangement of external surfaces. This means that the roof at its edges descends to the ground and flows out into the existing grassy terrain with larger green areas.
Project name: Sotelia
Location: Podčetrtek
Client: Terme Olimia d.d.
Area: 14,000 m²
Project: 2004
Execution: 2006
Bruto team: Matej Kučina, Tanja Maljevac, Luka Vidic
Architecture: Enota
Photo: Matej Kučina
Awards: Piranesi Award 2006, Golden Pencil Award for public building, recognition by Slovene Chamber of Architecture and Spatial Planning 2006, Plečnik Award 2006