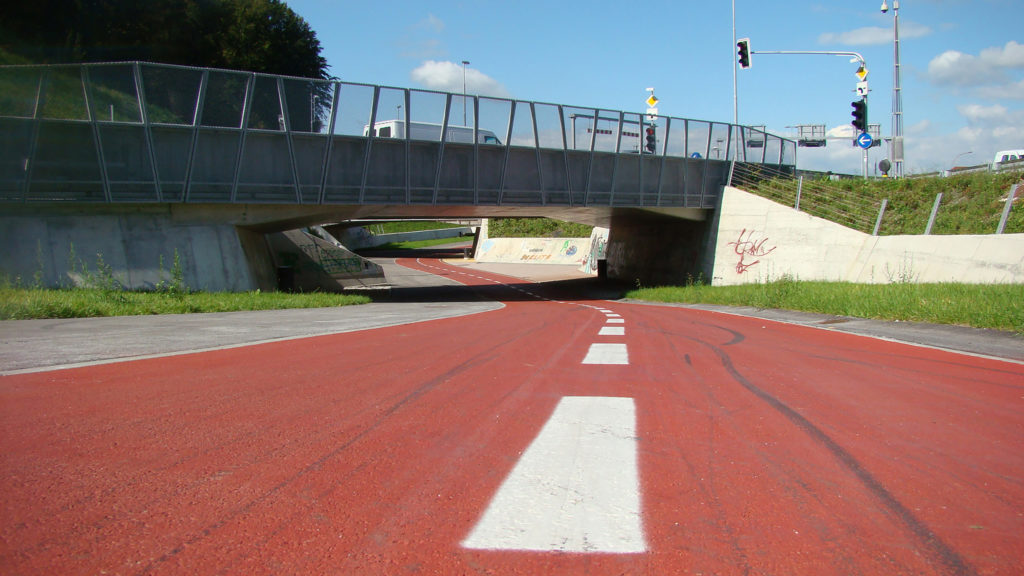 Underpass
When skaters suddenly get a new skate park
During the construction of a new two-level tunnel on Celovška Street in Ljubljana, the corridor for pedestrians and cyclists had to be relocated and deepened. Instead of the usual and at night dangerous technical underpass, we managed to persuade the client to set up an urban park, namely a pedestrian and bicycle corridor with a wide transverse profile, green spaces and urban programs.
The framework of the park is made up of bicycle and pedestrian paths, which represent the spine, as well as transverse concrete walls, which, as with a ship's skeleton, represent ribs or lateral frames. The park with the lateral partitions is designed as a sequential space where sequences of program spaces and individual arrangements of surfaces follow the movement (on foot, in roller skates or by bicycle). Individual extensions along the communication axis are simply shaped.
In the form of tectonic fractures of the basic structures they create flat surfaces serving various urban programs. The guerrilla approach was of big importance again. We managed to animate local skaters, to prove that they were part of the interested public and to get their own skate park within Šentvid park.
Project name: AC Park Šentvid
Location: Ljubljana
Client: DDC
Area: 16,000 m²
Project: 2004
Execution: 2009
Bruto team: Matej Kučina, Luka Vidic, Urban Švegl, Tanja Maljevac, Meta Božič, Eva Prosen
Architecture: Elea, Damjan Bradač
Photo: Matej Kučina
Awards: Golden Pencil Award for public space, Slovene Chamber of Architecture and Spatial Planning 2010